After discussing what is the definition and essence of managed WordPress hosting, it's time to begin the search for the best managed WordPress hosting. Let's start with a review of the GoDaddy Managed WordPress hosting.
Who is GoDaddy?
GoDaddy is a huge hosting corporation, that as of 2014 has 13 million customers and net worth of over 900 million dollars. They have started with primary focus domain registration and managed to obtain the position of biggest domain registrar in the world. Their hosting packages, however, have suffered some bad reviews over the years, primarily due to questionable account security, ineffective or unreachable support, and bad refund policies. Lately, they have made some changes to the company in order to improve their services.
GoDaddy Managed WordPress Packages
GoDaddy offer four options for managed WordPress hosting, with gradually increasing limits.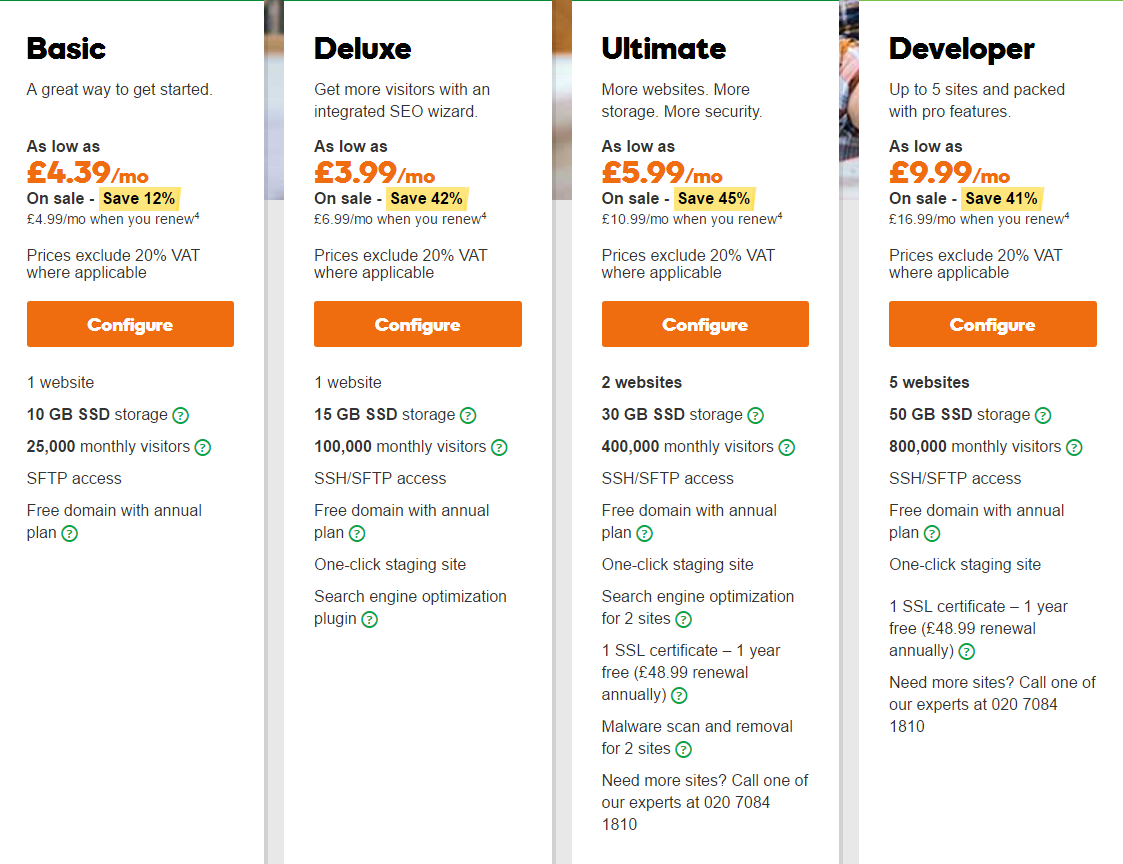 GoDaddy Managed WordPress Hosting Downsides
On of these changes is introducing their Managed WordPress Hosting plans. However, there are several things that remain unclear in regards to this plan, the main one being – is it really a managed solution?
Let's start with server setup. I couldn't find any indication that the servers for the GoDaddy managed WordPress is any different than their shared hosting servers, which is not a good sign, especially compared to the majority of the managed WordPress providers, which setup servers exclusively for WordPress users. All of the features listed to optimize your WordPress application are software or account-related. The result is that compared to my test accounts on other managed hosts (WebHostFace, DreamHost, and WP Engine), the site on the GoDaddy managed WordPress hosting doesn't perform as well.
Another downside is that they don't provide a control panel, but rather a custom back-end to manage your WordPress site only (similar to the WordPress Dashboard). This means less additional features (like cron jobs, file or database management, domain aliases, etc.) and absolutely no possibility of hosting another application. Also, you will have to adapt to a different panel, which might consume a lot of your time.
GoDaddy claims you are not limited on bandwidth. You do have a limit on 800 000 monthly visits (as advertised on their highest managed plan – Developer) and if you go over this limit, you will have to pay an additional fee. However, you do also have a memory limit of 512MB allocated to your account (even on Developer) which is quite restrictive and wouldn't probably handle 800 000 visits per month, anyway. Therefore, that plan is not a good option if you plan to grow your business.
This is, of course, not the only limit. GoDaddy has a list of WordPress plugins, which you are forbidden to use. The justification is that these plugins are either potentially harmful or too heavy. If you happen to install any of those plugins or transfer a site, which has any of them already installed, GoDaddy will remove them.
With the GoDaddy WordPress hosting, you get one O365 exchange email box for one user, which is free for the first year only. This means that if you have multiple employees, you cannot create a separate mailbox for each of them.
Finally, the GoDaddy support, which has always been a hit and miss. What I (and a lot of people on WordPress hosting-related forums) understand by Managed WordPress hosting is not only server and account environment, but also a team of trained professionals that will help you with WordPress-specific issues. Of course, that doesn't mean I expect them to develop and design my site, but at least provide guidance and troubleshooting. That was not my experience with their team as the support representative quickly dismissed my WordPress-directed questions and kindly directed me to a forum discussion.
GoDaddy doesn't support WordPress Multisite, however, due to the fact that Multisite requires a huge amount fo resources, that limitation is valid for the majority of managed WordPress providers and almost all shared hosting plans.
GoDaddy Managed WordPress Hosting Benefits
If you compare GoDaddy managed WordPress with other managed WordPress hosting providers, you will definitely see that GoDaddy is probably the cheapest. This is great if you are on a tight budget or if you will be using their hosting for a side project. They also offer free domain name upon annual registration, so you save on that service as well (unless you already have a domain).
Many of the features on their plans are scalable, which means you can increase certain limits (such as monthly visits) for an additional fee.
Also, if you migrate your site, they have a plugin which makes the migration fast easy. This is also valid for multiple sites, GoDaddy advertises the so-called ProManageWP, which includes a plugin (ManageWP Worker), that allows you to manage multiple sites from one Dashboard-like back-end.
GoDaddy are also fixated on security and implement a ton of features and plugins to protect your site and account. They also give you access to SSH (missing only in the Basic package) and SFTP.
Conclusion
All in all, GoDaddy Managed WordPress hosting is a great (and cheap) place to start your WordPress project or host one you already have, which is small-to-average. However, should you wish to continue growing your site, you might want to consider a more powerful managed WordPress provider with a more experienced WordPress team.
Do you agree or disagree with this review? Leave your feedback in the comments below!